These healthy apple crumble bars are vegan, gluten-free, and made with wholesome ingredients and fresh apples. You'll love the cinnamon apple filling paired with the oatmeal crumble crust and topping!
If you've been apple picking this fall, these apple crumble bars are for you!
They are amazing on their own, but next level when paired with my date caramel sauce and vanilla ice cream. Trust me. I won't admit how quickly these disappeared from our house. They're the perfect fall dessert.
I based this recipe off my healthy blueberry crumble bars, which were a staple in the house this summer. I wanted a fall version with apples that would be just as delicious and these bars totally hit the mark.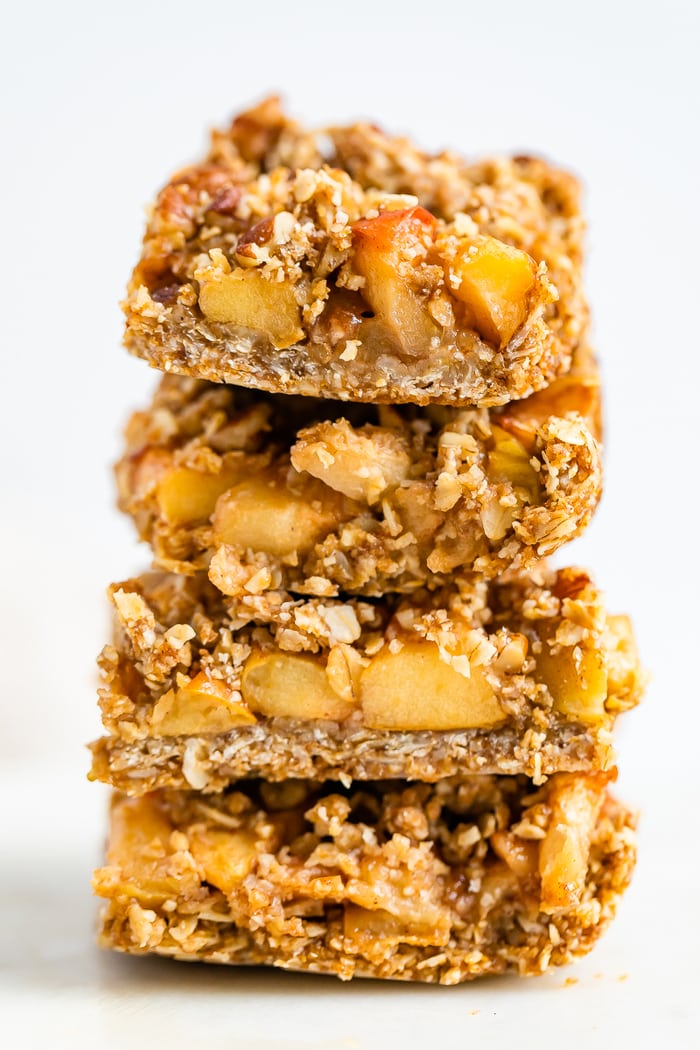 Here's What You Need
Traditional apple crumble bars are loaded with butter and sugar, but this recipe makes them a bit healthier, vegan and gluten-free just by swapping a few simple ingredients.
We're using fiber-filled rolled oats instead of flour, coconut oil instead of butter and only a 1/2 cup of coconut sugar for the whole recipe. There's also no added sugar in the apple filling either. Cooking the apples down with a little cinnamon makes them sweet enough without the need for extra sugar.
rolled oats – oats are used for both the base and the topping of these bars. Some are blended into oat flour and some are kept intact! I recommend using rolled old fashioned oats. I really like Bob's Red Mill rolled oats. You can get them gluten-free if needed.
coconut oil – helps bind together the ingredients for the crumble. You could also use butter, but coconut oil keeps these vegan.
coconut sugar – I love using coconut sugar because it's a natural sugar with a bit more nutrition, but regular cane sugar works as well.
sea salt – brings all of the flavors together!
pecans – adds a little crunch to the base and topping. I love the texture the nuts add, but to make the crust and topping nut-free you can swap the pecans with additional oats.
apples – any variety will work, but I usually go for Honey Crisp, Fuji or Granny Smith as they're great for baking.
cinnamon and nutmeg – the perfect blend of spices that make these bars taste like fall!
vanilla extract – a flavor enhancer!
arrowroot powder – this is to help thicken the apple mixture. If you don't have arrowroot you can also use cornstarch.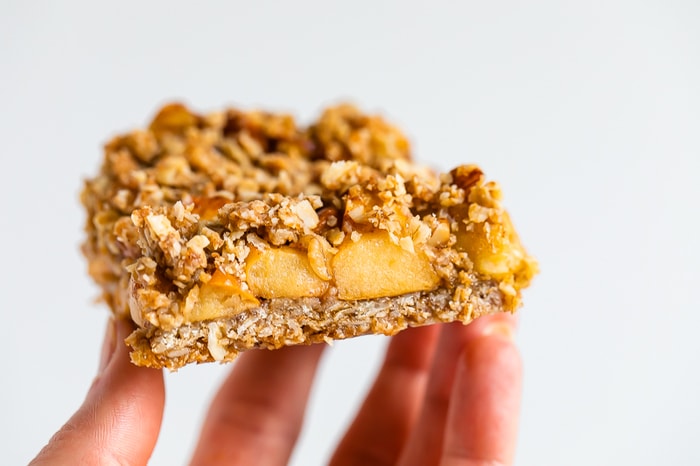 Steps to Make Apple Crumble Bars
Prep – The first thing you need to do is preheat your oven to 350°F. Next, line an 8×8 baking dish with parchment paper.
Make Filling – Add your apples, cinnamon, nutmeg, water and arrowroot powder into a saucepan. Cook over medium-high heat for about 15-20 minutes, stirring often and watching to make sure the mixture doesn't burn. You'll know it's done when the mixture has thickened and the apples are soft, but still hold their shape. Remove from heat, stir in vanilla and set aside.
Make Oat Flour – Add 1 cup of oats to your food processor and process until oats turn into fine oat flour.
Make Crumble – Add the remaining cup of oats, coconut sugar, coconut oil and sea salt into the food processor and pulse until everything is combined and the size of coarse crumbs. Don't over-process the mixture, you want to be able to visibly see some of the oat flakes.
Measure out ⅔ cup of the oatmeal crumble mixture for the topping into a small bowl and stir in the chopped pecans.
Assemble – Use the remaining oatmeal crumble mixture to create a crust. Evenly press into the parchment-lined baking dish using your hands. Pour apple filling on top and then sprinkle the oatmeal + pecan crumble on top.
Bake – Bake for 35-40 minutes until the bars are golden brown on top. Remove from oven and place on a wire rack to cool completely. Be patient, if you don't let them cool before removing them from the pan they will fall apart. I recommend putting them in the fridge or freezer to chill, about an hour or so.
Portion – Once cool, cut into 9-12 bars and enjoy right away or chill longer in the fridge before serving.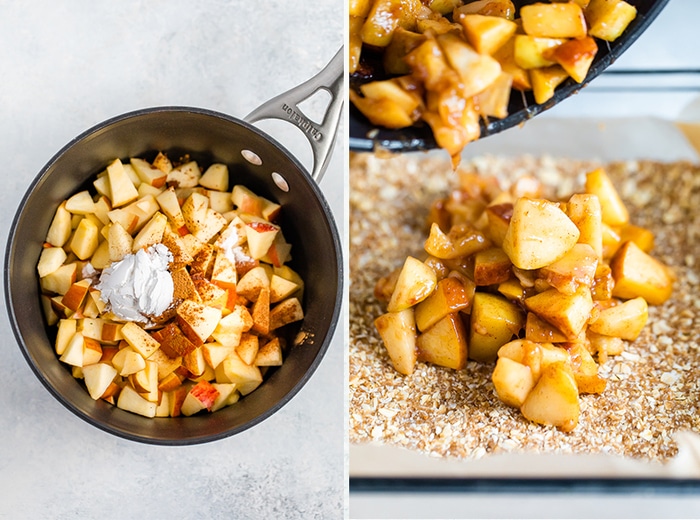 How to Cut and Serve
As I mention in the recipe, the bars are much easier to cut and remove from the pan after cooling completely so don't skip this step. I usually pop them in the fridge or freezer to speed up the cooling process.
If you're serving them for dessert and want them to be warm, you can cut and portion the bars right away… they just won't hold together as well as when served cold. When serving the bars warm, I highly recommend topping them with ice cream (my banana ice cream would be delish) and a drizzle of date caramel sauce. SO GOOD!!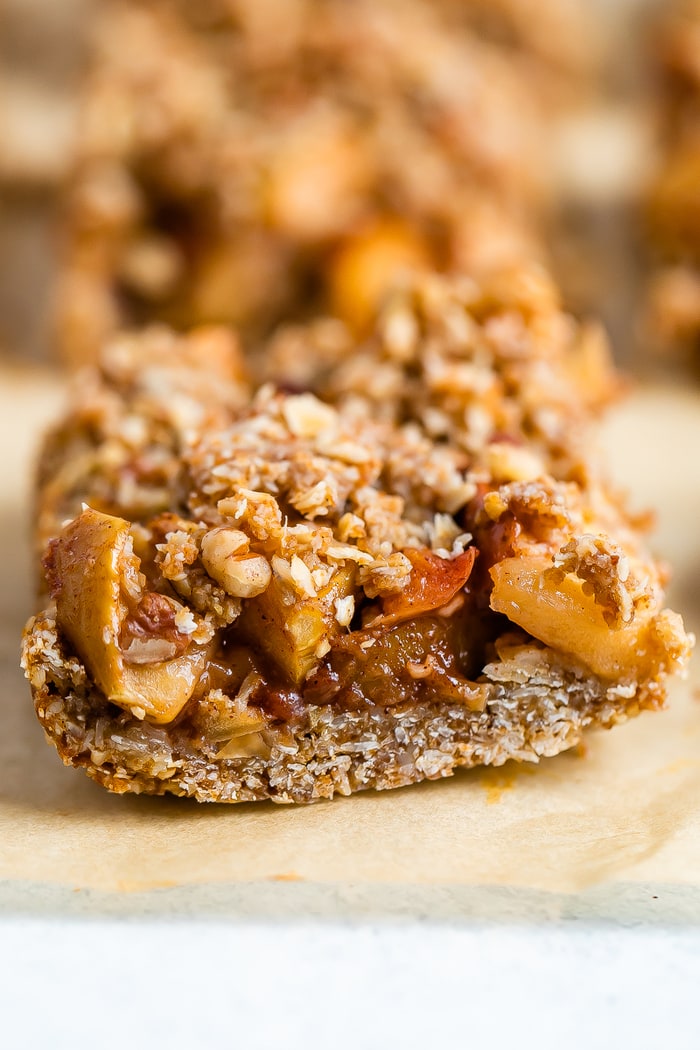 How to Store
Leftover bars will keep for 4-5 days in the fridge in an airtight container. You can also freeze them for longer storage. I recommend storing them in the fridge because the bars hold together better when cold and are so delicious straight from the fridge. They're a real treat for breakfast, but also make for a great snack. There's really no wrong time to serve them.
Credit: https://www.eatingbirdfood.com/healthy-apple-crumble-bars/
#applerecipe #apple #applerecipes #apples #appledessert #foodblogger #recipe #foodphotography #homemade #food #foodblog #foodie #dessert #fallrecipes #recipeideas #healthyrecipes #healthylifestyle #applecrumble #madefromscratch #applepie #applecrisp #fallbaking #foodgram #f #appledesserts #baking #appleseason #favoritefamilyrecipes #healthyfood #bhfyp